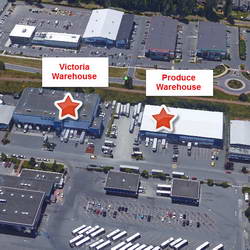 1015 Henry Eng Place
Victoria (Langford), BC.
V9B 6B2
Canada
Local Phone: (250) 381-3399
Toll Free: 1-800-201-1277
Fax: (250) 381-3183
Emails:
dispatch@coldstarsolutions.com
This ColdStar location consists of the following, all operating out of our 36,000 sq. ft. warehouse
Victoria temperature controlled cross dock
Cold Storage
Dairy wholesale operations
Freezer Wholesale operations
Vancouver Island Dispatch operations
Vancouver / Lower Mainland Dispatch operations
Our staff custom-build each order, moving over 500,000 lbs of product per night.
Cold Storage Facility
This 1 million cu. ft. facility, maintained at a constant 28 degrees below zero, is connected to our warehouse. It operates under HACCP guidelines and is set up to provide all third party logistic requirements.
Operating Hours
The Victoria warehouse is open 21 hours of nearly every day, only closing between 6 pm and 9 pm Sunday through Friday. On Saturdays, we close at 4 pm.