Victoria Warehouse
Refrigerated trucks and cold-storage warehouses ensure the cold-chain from end-to-end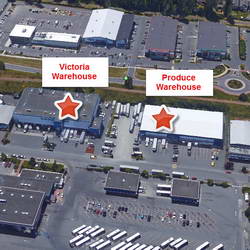 This ColdStar location consists of the following, all operating out of our 36,000 sq. ft. warehouse
Victoria temperature controlled cross dock
Cold Storage
Dairy wholesale operations
Freezer Wholesale operations
Vancouver Island Dispatch operations
Vancouver / Lower Mainland Dispatch operations
Our staff custom-build each order, moving over 500,000 lbs of product per night.
Cold Storage Facility
This 1 million cu. ft. facility, maintained at a constant 28 degrees below zero, is connected to our warehouse. It operates under HACCP guidelines and is set up to provide all third party logistic requirements.
Operating Hours
The Victoria warehouse is open 21 hours of nearly every day, only closing between 6 pm and 9 pm Sunday through Friday. On Saturdays, we close at 4 pm.
Facilities & Fleet
Fast facts about the Victoria warehouse
17 loading doors
Fully refrigerated
Sealed docks
Custom order building
Overnight cross-docking
On-site laser temp readings
Cold storage: 1 million cu. ft.