Produce Warehouse
Refrigerated trucks and cold-storage warehouses ensure the cold-chain from end-to-end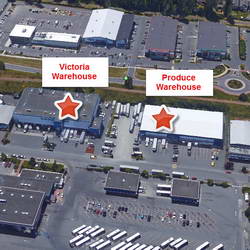 ColdStar Solutions Inc. (100% Locally Owned and Operated) has become highly recognized as a leading produce wholesaler on Vancouver Island and surrounding Gulf Islands.
ColdStar Solutions believes that trusting partnerships is one of the keys to our success. We provide expert advice on fresh produce including promotion programs, purchasing incentives,merchandising programs and comprehensive salad program.
ColdStar's Produce Division is committed and passionate in procuring high-quality produce, locally and around the world, in both conventional and organic at competitive prices.
We believe in "Islanders Supporting Islanders". It is very important to ColdStar that we identify Vancouver Island farmers, product availability and market our Island products and BC farmers.
Delivering the Freshest Service and Quality since 1984.
Facilities & Fleet
Fast Facts About The Victoria Produce Warehouse
Close Grower & Supplier Partnerships
BC Grown Seasonal Focus
Highest Quality Fresh Produce
Full Spectrum of Conventional & Organic
Operating Since 1984